As a Junior golfer, you may need a golfing bag that's not only lightweight but one that can stand up to the elements. There are all kinds of junior golf bags out there, but it's important to consider a few factors when choosing one. For example, can the bag easily accommodate smaller golf clubs and is it easy enough to carry around a course?
In this article, we'll look at the most lightweight golf bags for juniors including their main features and how junior golfers can use them to their advantage.
PING Golf Hoofer Bag
This bag is a great option for junior golfers who want a premium-quality bag with some added convenience. It features a 5-way club divider with 2 full-length dividers for easy access to all clubs and a further 12 pockets for any accessories a junior golfer might need. All of the pockets are water resistant making them perfect for storing valuables. For some extra comfort, this bag also features adjustable shoulder pads and hip pads to help make carrying easy. Weighing in at just over 2.2kg, this bag is extremely lightweight so juniors can easily carry and push it on long days on the course. The brand PING is associated with helping children and teens get into golfing, specialising in junior golfing gear.
Callaway Hyperlite Stand Bag
A stand bag is also a good option for a junior golfer. This particular Callaway stand bag is one of the most lightweight stand bags currently on the market weighing only 1.3kg. The bag features 4 full-length dividers for easy organisation of clubs and 7 additional pockets to store belongings in. These dividers not only help with organisation but also prevent the clubs from bumping into each other preventing any damage. This bag also features Comfort Tech Strap technology for a bit of extra padding on the shoulders. It even comes with a rain hood to protect the bag and the golfing gear.
TaylorMade Select
This bag is a great all-rounder for juniors starting in golf. It's another lightweight option weighing in at just over 2kg making it perfect as a carry bag or to put on a push cart. With this bag, there are so many colour combinations to choose from as well to suit every style. For some added comfort the bag also comes with self-adjusting straps. An 8-way top divider allows for easy organisation of clubs on the go, with a water-resistant pocket as well for valuables. This bag even features an anti-split stand system for further protection.
Sun Mountain 3.5 LS
This more premium bag is a great option if you want to invest a bit more into a quality bag for your child. The bag comes with 7 pockets with 1 being water-resistant and one being velour lined for valuables. It also comes with a hydration pouch to help junior golfers stay hydrated while playing long tournaments. For some extra comfort while carrying, this bag also features padded straps made with high-density foam that shapes the wearer's back and shoulders. The X-strap system makes the bag easy to put on and take off with better strap adjustments. It also features 4 full-length dividers and a Dual Strap system to keep the contents safe and secure.
PGA Superstore Junior Bag
This bag is the perfect option for younger children who might need a tournament bag. It's also a great option if you're on more of a budget. It weighs only 1.5kg making it incredibly lightweight and perfect for a child to carry. It also has a 5-way padded top and 5 storage pockets to store all the clubs and valuables a child might need on them.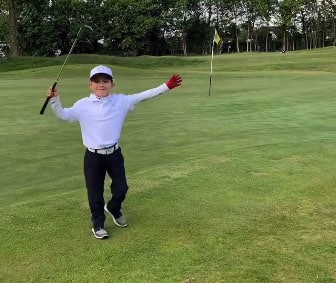 Consider the golf-grip™ for your family
In conclusion, there are a few more things to look out for when choosing a bag for a junior golfer. You don't necessarily need a bag with fancy gadgets and features however, you do need a bag that is lightweight enough so it won't strain your child's back and shoulders but also so it has enough storage for your child's belongings.
Another thing to consider for a junior golfer is the accessories they might need. They may need a bit of extra help with their hand positioning or maybe they need to work a bit more on their swing. That's where we come in. The golf-grip™ is the perfect accessory to help your child with those exact things. This handy tool is suitable for all skill levels and all ages to help improve anyone's golfing technique. It's also compatible with any set of clubs making it perfect for any junior wishing to improve their performance. For more information on how this tool can help you, take a look at our website.