When you're a golfing beginner it can be overwhelming to figure out which set is best for your playing style. Whether you need to improve your swing, speed or power there's a set out there for every need. With the right set of clubs, you can become a pro in no time and perfect your golfing technique.
In this article, we'll take a look at the best golf set for beginners including what features to look out for when purchasing your own and how these sets can help to develop your technique. 
Taylormade RBZ Speedlite Package Set
This particular set is perfect for any skill level. The irons themselves are impressive to look at and can give any golfer the confidence they need to develop their skills. The irons have a lot of heel and toe room to be a bit more forgiving and are very easy to launch. An impressive level of forgiveness can also be achieved with this set of clubs that also perform incredibly well and will look good on a course. They're not the most premium set however they are still made to a high standard.
Wilson Prostaff SGI package set
If you're relatively new to the game you may want to consider this set. The set promises plenty of forgiveness along with plenty of power while framing the ball. The sand wedge in particular features a wide sole to make getting out of bunkers a whole lot easier. This set features 10 irons including a 10.5° driver and a good quality putter containing all the necessary clubs you need as a beginner. You can start to further develop your technique with this set and lay the foundations to become a pro golfer
Top Flite XL 13 Piece Complete Set
This slightly more affordable set is a great option for any new beginner. The driver, fairway wood and hybrids are all equipped with graphite shafts increasing your distance for each shot and also making your swing a lot easier. The irons instead have steel shafts so beginners can begin to learn how to control their distance more. Every club within this set has also been designed to help give beginners a higher launch and with a low centre of gravity. Each iron also features wide soles to also help with a higher launch and less turf interaction. The putter has a bit more forgiveness, particularly for strikes that are more off-centre. The stand bag itself also allows for ample storage of all of your clubs and belongings. The only piece the set doesn't include is a sand wedge however you can always just purchase this separately.
PXG 0211 Golf Club Set
For a more premium set of clubs, this set is a fantastic choice. Overall the set is very forgiving and has a very premium feel and look to it. The driver is very attractive and is of exceptional quality. This set contains 10 pieces which include 6 hybrid irons, a pitching wedge, a sand wedge, 3 woods and a Hellcat putter all with a bag and even a hat. With this brand, you also have the option to just purchase the 3 woods or 6 hybrid irons individually. It's the perfect set for a beginner who can invest in some quality clubs to help develop their technique. Even players with the worst swing can find this set quite forgiving.
Inesis 100 Package Set
This timeless set is another perfect beginner's set. All of the clubheads are enlarged to make it easier for new players to frame the ball well and for an added confidence boost. There are 2 different sizes for both right and left handed players. The irons are slightly wider than usual irons, meaning they aid you if you can't get the centre of the clubface. They can help you perfect your technique and develop your golfing skills as you carry on practising over time.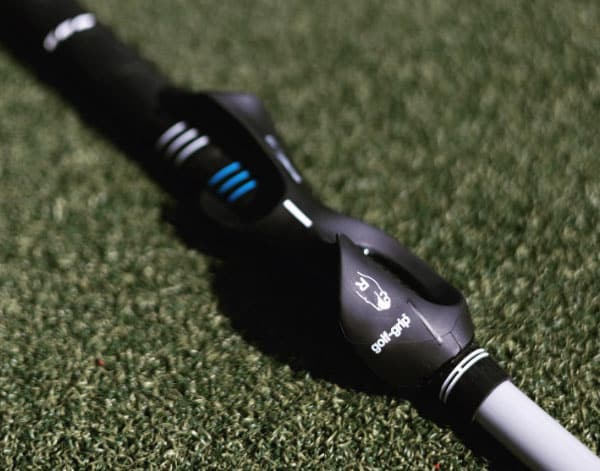 We can help with your grip
Every beginner golfing set has different pros and cons with many different focus points. In general, look out for sets that have a variety of different clubs to help you practice every kind of shot. Also, keep an eye out for clubs that have a slightly larger and wider clubface to help add a bit more forgiveness to your shots.
However, it's all well and good to invest in quality clubs as a beginner, but you also need to focus on your hand position and swing as well. That's where the golf-grip™ comes in. This handy tool is perfect for developing hand position to make a big difference to your par.
For more information on how this tool can help you, take a look at our website.