As a beginner golfer, it can be overwhelming to decide which is the best set of irons for you. Having the right clubs will not only help to boost your performance but also helps you to develop the foundations of being a good golfer as you continue to play and practice. Firstly, you have to find the right set of irons to suit your golfing style and skill level. That's where this guide comes in handy.
In this article, we'll take a look into the best golf irons for a beginner and how they can help you to refine your technique, boost your performance and further develop your skills.
For a power boost: Mizuno JPX923 Hot Metal HL Iron
This Mizuno club is one of the best out there promising a slower swing speed for the perfect launch. If you're struggling to achieve that extra bit of distance then this is the perfect club for you. Lower handicap golfers in particular can benefit from this club for more forgiveness and improved stopping power with plenty of shaft lean. This club is also especially suited to players who need a bit more confidence when they play to launch the ball a little bit higher.
Best all-rounder: Inesis 500 irons
For the best all-rounder iron at a lower price, these Inesis 500 irons are good value for money with good performance. These irons have been specially designed to suit higher handicap golfers with good forgiveness and distance. These irons also help to give the ball more speed and power for even off-centre hits. The Inesis iron range is also specially designed to suit most golfing styles, allowing the user to choose from 6 different setup options to help provide the right length for you. Their range also includes irons to choose from based on your swing speed.
For straighter irons – Ping G425 Iron Set
This set of irons promises faster ball speed, higher launch rates and much more distance for beginners. Ping irons tend to have a more compact head which allows for much more forgiveness in a shot. If you're a beginner who tends to struggle with achieving straighter shots, this is also the iron for you. It promises straighter ball flights at greater distances and speeds compared to many other irons. This is due to its shorter heel-to-toe length which also increases the stability of the club and improved accuracy. Alongside all of this, it also has a much smarter design compared to other beginner irons featuring water-repellent hydro pearl chrome to help remove excess moisture.
For performance on a budget: RAM FX77 Iron
If you're looking for a good quality performance boost on a budget, this is the perfect club. It's one of the cheapest irons out there that doesn't compromise on its ability to perform. It's aesthetically pleasing, has a stable feel and is a great tool for off-centre strikes. It does tend to deliver lower ball flights which makes it a more suitable tool for higher handicap golfers. This all-rounder club is great for a beginner who wants to look good, feel powerful and have more consistent delivery on the course.
For a better feel – Titleist T300 Iron Set
If you want to feel the part as well as look the part, the Titleist T300 set is a great option. Not only are they dedicated to improving your overall game performance but also help to improve your precision and launch rate with the maximum forgiveness. The ball feels more powerful and yet soft and can pick up much more speed with this set of irons. If you're happy to spend a little bit more on this set of powerful clubs, they are a great set for beginners wanting some more power.
For increased speed: TaylorMade Stealth Iron Set
For easy launch with improved ball speed consider this set of TaylorMade clubs. This set features a unique Cap Back design to improve overall forgiveness but also the feel of the club. This design also extremely escalates your ball speed, making it one of the fastest irons on the market. Promising high launch rates and a much softer heel upon impact, this set is great for beginners who want to add a bit of extra speed and power to their game.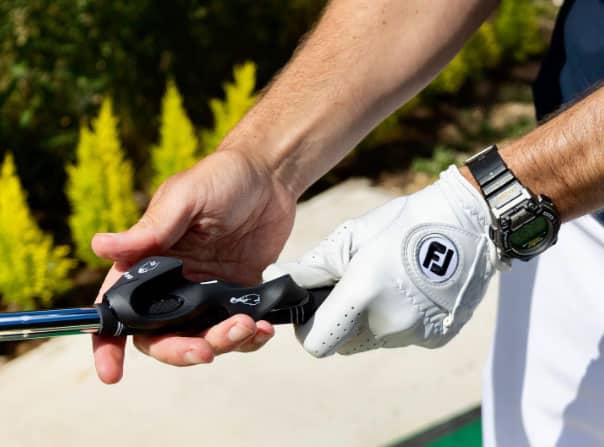 And what about your grip?
It's all well and good to invest in quality clubs as a beginner, but you also need to focus on your hand position and swing as well. That's where the golf-grip™ comes in to play. This handy tool is perfect for developing hand position to make a big difference to your par.
For more information on how this tool can help you, take a look at our website for more information.