Golf bags are the key golfing accessory that often gets overlooked. Of course, you do need a strategy, skill and plenty of practice to be a successful golfer, however having the right kit is also extremely important to the sport, as we've previously discussed in our article 15 of the best golf gadgets.
A good golf bag will not only help to improve your performance on the course but also help to focus your mind completely on the game itself. In this article, we'll take a look at some of the best golf bags out there in 2023 for all skill levels and golfing styles to help you refine your technique even further no matter what type of golfer you are.
1. Best bag on a budget: Inesis Waterproof Stand Bag
If you're looking for a bag that is still of decent quality but on a budget, then you need to have a look at this one. It has a bit of everything from its aesthetics to its value for money while even being incredibly lightweight. It features 14 individual dividers to accommodate all of your clubs and also adjustable straps to make carrying the bag as comfortable as possible. Alongside all of this, it's even waterproof so you can perform even in the poorest weather conditions.
2. Best bag for storage: Sun Mountain C-130 Cart Bag
This cart bag is perfect for the golfer who needs never-ending storage for their golfing gear. It features 13 pockets with a fantastic sleek design with plenty of aesthetics. It's also quiet on a cart during play and is one of the more stable cart bags on the market. There are also 14 club dividers and a special putter well which can accommodate all sizes of putters. Two of the pockets are for apparel as well as a cooler pocket, a rangefinder pocket featuring magnetic closure and two more velour-lined pockets which are perfect for storing any valuables. This bag also has strategically placed handles for easy transportation of the cart.
3. Best all-rounder bag: Ping Hoofer Stand Bag
If you need a golfing bag that does a bit of everything then this bag is the perfect all-rounder. It's also one of the most well-known bags on the market this year, suiting all skill levels. It's extremely comfortable to carry, very stable when using the stand and also has plenty of storage for your kit. The bag itself features 2 shoulder cushioned shoulder straps and a hip pad for maximum comfort when carrying. By only weighing in at less than 2.5kg, it's also extremely lightweight so you can stroll around your course with ease. Another feature of the bag is its cart strap channel underneath its main pocket allowing for complete access to all its 11 storage pockets.
4. Best lightweight bag: Wilson Exo Lite Stand Bag
If having a lightweight bag is your priority, this Wilson bag will be your best investment. It even features a magnetic rangefinder pocket to give it a more premium feel. Weighing in at just over 1.5 kg, it's the perfect bag if you don't fancy lugging around a heavy golf bag all day on the course. It's even showerproof with waterproof, fleece-lined pockets to store your valuables in. Despite how lightweight it is, it's also incredibly sturdy with legs that easily kick out to create a solid base for your bag. Its straps are also comfortable, with the bag even featuring hip pads to ease any strain on your back and shoulders.
5. Best value for money bag: Powakaddy X-Lite Cart Bag
This Powakaddy bag is great if you want to get the most out of what you pay. It's also a bit of an all-rounder, with plenty of storage while also being streamlined and lightweight. Being a fairly cheaper option compared to other bags, it's a great option if you still want the quality of a more premium bag on a slightly lower budget. In total, 7 pockets also come with a 14-divider top and is an extremely similar style to the more advanced Dri Tech Model. Consider this bag if you prefer quality without any unnecessary mod-cons.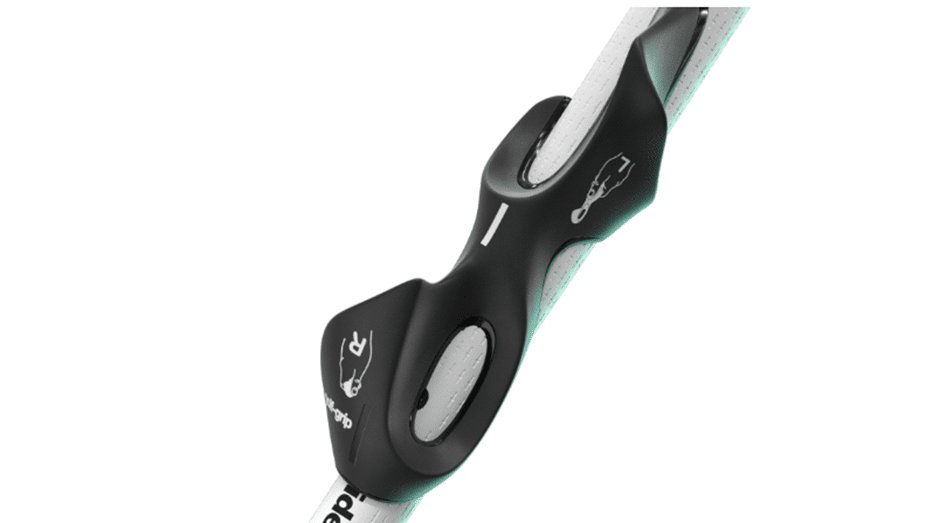 Add the golf-grip™ to your game
A great golfing bag also needs some great accessories to go with it. Why not consider the golf-grip™? It's a game-changing accessory that can turn even a beginner golfer into a pro. It attaches to any type of golf club to give you a performance boost and help correct your hand position and swing. This simple tool can make the biggest difference to your par, no matter your skill level.
For more information on this accessory, take a look at how this tool can improve your game.